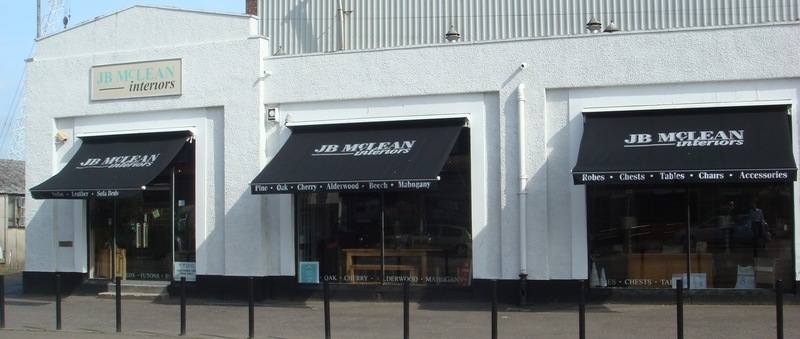 At JB McLean Interiors Edinburgh furniture store, we offer an excellent range of solid wood furniture with a variety
of wood types available to include oak, ash, walnut, mahogany, redwood ,pine , sheesham and a selection,
of recycled and reclaimed wood . A large selection of sofas , sofabeds . corner groups , accent chairs
footstools art work and gifts all displayed in our extensive 10,000sqft plus showroom. Whether you're
looking for a new suite, dining set, bedroom or accessories, JB McLean interiors offer an extensive range
of furniture to enhance any room. We recently added new product lines, to include a large selection
of reclaimed and recyled products that offer all the natural characteristics you would expect.
Each piece in these new ranges, offers complete uniqueness - as no two of the
same items are alike. Well designed and functional solid wood furniture to enhance
any room and superb value for money.
About J B McLean Interiors
JB McLean Interiors, was established in 1991 by Julie and Roddy McLean. Both have had extensive
and successful careers in the industry; Julie started in interior design in 1985 and Roddy began his
career in furniture over 26 years ago and both share a passion for furniture.
From the outset it was their ambition to create a furniture store with a difference and they achieved
this when in 1991 they openedtheir first large warehouse in the centre of Edinburgh and since then have
gone from strength-to-strength. They soon built-up a loyal customer base, not just from Edinburgh
but from all over the Central belt.Since their humble beginnings their philosophy has never
faltered – to create an environment within the store which is large enough to offer their customers
an extensive choice but still retain a personal feel – with both Julie and Roddy there every day
it shows their clients that they care. Great time and care is taken to source
the range of furniture that is on display the shop, ensuring a balanced offering for their
discerning customers. They carry displays andstock from all the leading manufacturers which offers
value for money for your dining room, bedroom, living room, kitchen and
conservatory, in fact the whole house. To complement this we also stock pictures,
mirrors, canvases and gifts. Whilst we appreciate that the web sitecan only provide
you with a very small selection of the products on display in our showroom we highly recommend
that you pay us a visit - seeing is believing. There is no substitute for the benefit of visiting the showroom
and experiencing for yourself the quality and comfort on offer. Service is very important at JB McLean Interiors - including at
the point of delivery. Their premium delivery service includes setting up the furniture in your home, removing all
packaging and recycling the packaging where possible. Most importantly, all prices are competitive and we are
never knowingly undersold so contact us for the best prices,value and service available.
Price Honour
When you place an order with JB McLean interiors be assured that you will receive the most competitive price, an outstanding
delivery and after sales service.However, if you find the identical item being sold elsewhere for less, JB McLean interiors will
endeavour to beat the price. We may ask for proof of lower price quoted. Excludes Ex Display & Discontinued Lines.
REFUNDS ONLINE PURCHASES Jbmclean interiors offer a 14 day refund policy on all online purchses please contact the store directly.
R