Copyright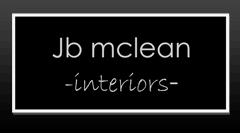 Copyright J B Mclean Interiors
All rights reserved. jbmcleaninteriors.co.uk is a trademark of J B Mclean Interiors. All other registered and unregistered trademarks are the property of their respective holders. Copyright in this document is owned by J B Mclean Interiors.
J B Mclean Interiors will not be held responsible for any inability to access any content on this page or any inaccuracies/discrepancies that may occur on property pages. E&OE.
Any external links occurring on the Web site are provided for convenience and purely informational purposes. While we try to find sites that are of value to you, J B Mclean Interiors cannot be held responsible for any content, political views or endorsements that may be found in any of our external links.
Any information, when placed on this site, is believed to be accurate. Offers, rates, terms and other information provided herein is subject to change without notice. J B Mclean Interiors does not guarantee the completeness or accuracy of the information provided herein.
J B Mclean Interiors, and its affiliates do not warrant the accuracy, completeness, quality, timeliness, or availability of the content of information or other materials available through this website or this service. Such information is provided "as is" without warranty or condition of any nature, including, without limitation, the implied conditions of merchantability fitness for a particular purpose, and non-infringement. Some jurisdictions do not allow for the exclusions of implied warranties, so the above may not apply to you.
J B Mclean Interiors and its affiliates are not responsible or liable for any loss or damage (including any consequential, indirect, incidental or special damages, even if known to us or reasonably foreseeable) resulting from the use or misuse of this site, or the information, content or other materials contained herein.